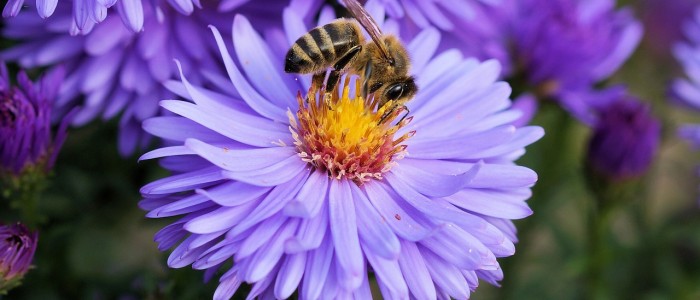 While we often get calls for "bees" we've learned over the years that our customers sometimes refer to anything that stings, and sometimes any thing that flies, as bees. The irony is that for all the bee calls we at All Seasons Pest Control,  respond to they are almost never for bees.  So today we're starting a "what kind of bee" series of posts. Hackettstown, and Stroudsburg  have their fair share of aggressive stinging insects including bald face hornets, wasps, and the subject of today's blog post Yellow Jackets.
In some areas of the southern United States yellow jackets survive over the winter  making their nests larger and larger each year. But in and around Hackettstown NJ, Bangor PA, and Stroudsburg PA yellow jackets nest tend to die at the end of the season. Still the nests can grow very quickly becoming larger and more aggressive as the summer and fall progresses, so it is important to consult a local pest control company to have the nest treated.
So when you find yourself asking What kind of bees are these, how do you know if your bees are yellow jackets?
To identify yellow jackets we can observe their appearance, their behavior, and their nest.
Yellow Jacket appearance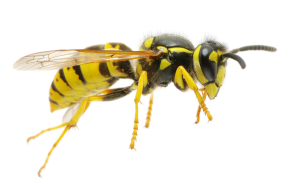 Yellow jackets are about 1/2" long with alternating bands of black and yellow on their body. They lack the hair and flat legs of honey bees …. Whats that you say? Your not getting close enough to these darn things to see if they have if they have hair or how flat their legs are? Ok fair enough, for us the easiest way to identify yellow jackets is their pointed rather than rounded stinger. Small though they may be we find stingers tend to stand out.
Yellow Jacket Behavior
Yellow jackets are annoying aggressive stinging insects. They interfere with our picnics, sting our family members, and make nests in our homes.  How's that for behavior? Yellow Jackets  feed on nectar but are drawn to human sweets such as soda, candy and baked goods. More than a few of us have been stung by a Yellow jacket hiding under the opening of a soda can. Yellow Jackets display a particular behavior and flight pattern. If you observe the opening of the nest you'll see them fly in and out in alternating pairs and triads.
The Yellow Jacket Nest
Its not always easy to find a Yellow Jackets nest, as they tend to make their homes in voids. Yellow jackets are often found in:
brick walls
rock walls
doorbells
play houses
sheds
dryer vents
roof lines
behind outdoor finishing pieces
or in the ground
If you suspect a yellow jacket infestation call All Seasons Pest Control for appointment today