Pest Control for Bald Faced Hornets
As temperatures increase through out the summer so increase the number of inquiries, at all seasons pest control, about those large gray papery nests made by bald faced hornets. Every year we receive hundreds of calls from Long Valley, Hackettstown and nearby about hornets nests that seemed to appear overnight. All Seasons Pest Control has been removing these nests for over 40 years and we have the knowledge and equipment necessary to keep you and your family safe from these stinging insects.
Bald faced hornets, are related to the yellow jacket, and actually belong to the wasp, rather than the hornet family. The nest of the bald faced hornet can grow as large as 14" wide and 23" long and can be the home of more than 700 insects.
The bald faced hornet nests go up quickly and many of our customers are suprised that the nest can grow so large after just a few days. Those attempting to remedy a Bald-faced hornets problem on their own, should take care. These wasps are aggressive! They will attack anyone or anything that invades their space.  This includes moms mowing the lawn,  dads working in the garden, or kids playing outside. Not only are they aggressive but bald face hornets can sting over and over again. The venom of the bald faced hornets makes the stings hurt, itch and swell for about 24 hours.
Bald faced hornets are found through out the U.S. and if you are from NJ, the Poconos or the Lehigh Valley you probably know these stinging insects as Hornets, or wasps. If however you are new to our area that you may know these insects as white-faced hornet, white-tailed hornet, blackjacket or bull wasp. Whatever you call them if you need help getting rid of them call us here at All Seasons Pest Control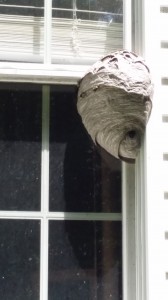 Bald Face Hornet Blog Posts