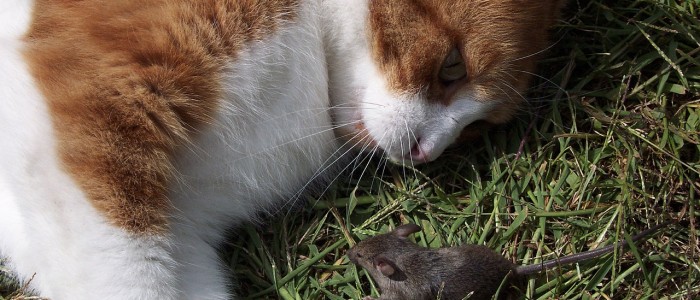 Mouse or Mice? But I have a cat!
Will a Cat keep mice away? Are cats an effective form of pest control? Aside from being wonderful family pets many homes in the Hackettstown area keep a cat as a deterrent to mice and other rodents.
While a cat may help keep a rodent population down it is not a surefire approach to being mice free. The rate at which mice reproduce, the cats palette, and disease are all factors which affect the success of cat based rodent control. Mice can detect the presence of cats and other predators by their scent and this can act as a deterrent. However this deterrent effect won't guarantee a rodent free home, and as pressure from cold air and dwindling food supply increase the effectiveness of your cats presence will decrease.
A cat will keep the mice away, but will it keep them far enough away?
A cat may keep mice out of the living area of your home, but this leaves the attic, basement, inside the walls and ceilings for mice to play. We talked about some common behaviors of mice in the our local exterminator area and pest control area in a previous blog post, in short they may venture outside for food and stay inside the unoccupied portions of your home. This means they are out of your cats reach but close enough to spread disease.
The cat caught the mouse, but did the cat catch all the mice?
Mice reproduce at a rate of 30 to 60 offspring a year on average, but it can be higher. Offspring are able to reproduce after six weeks. Thats several hundred new mice per year from each breeding pair of mice that manage to evade your cat. Are you sure the cat got them all?
The mouse's revenge
The cat caught the mouse, but the risk of disease means the mouse might get the last word. As cat expert Franny Syufy tells us in this about.com article Cats and mice are a deadly combination.
Mice in the home means health risks for humans and their pets. Diseases such as Hantavirus Pulmonary Syndrome (HPS) can be spread from mice to cats, and from mice to humans. The amount of reduction your cat contributes to rodent population might be off set by a large vet bill.
Does your cat even want to eat mice?
With all the hyper-palatable food available for cats will mice even motivate them? Of course you could limit the amount of food provided to your cat to encourage predidation on mice but that lead to catteralling outside your bedroom door all night or mysterious contributions by your cat to the sad cat diaries.
So how do you get rid of mice?
All seasons pest control can help you develop an integrated pest management plan that will help keep your home free of bugs and mice and other pests. We can even employ your cat …. on a part time basis. All Seasons pest control serves the Hackettstown and Long Valley, Chester and Flanders area in morris and warren counties. Get rid of mice safely and effectively. http://myallseasonspestcontrol.com/mice-come/