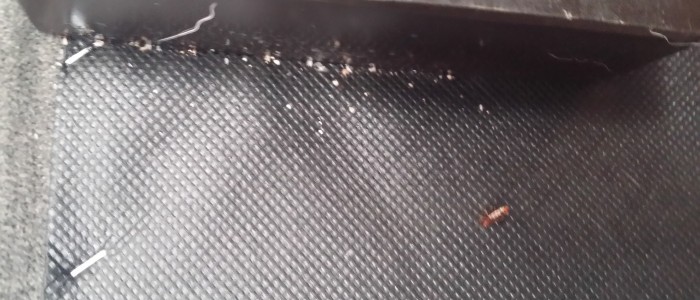 Do you suspect you may have bed bugs? At all seasons pest control we recommend the 4 B's inspection method. If you suspect a bed bug infestation an inspection by a pest control professional is recommended. But before you call there are a few things you can check on your own.
4 B's bed bugs inspection method
The 4 B's bed bug inspection method means look in your Bedding for Bed Bug Bites, Blood, and well…. bed bugs.
Bedding: when inspecting for bed bugs it is important to check your bedding. This includes checking your sheets, underside of your mattress, bed frame, and also anywhere else in the house where you might sleep… such as the couch.
Bed Bug Bites: Unfortunately bed bug bites look like almost any other insect bites. And while being bitten at night may seem like an obvious indicator of bed bug activity, night time bites are also a sign of lice, fleas, spiders or mosquitos  However many times bed bugs bite in a row, as apposed to random places through out the body.
Blood: small droplet sized blood stains on the sheets and bedding are also a sign of bed bugs. The blood may be red or may have dried black. There may also be small black pieces of bed bug fecal matter
Bed Bugs: finally look for bed bugs and bed bug eggs. When looking for bed bugs check under the mattress, along mattress pipping and seems, on bed frames. Bed bugs also like picture frames, drawers, and hinges so there are good places to check as well
If you have completed this inspection and determined you have bed bugs call All Seasons Pest Control to discuss a treatment plan. If you've completed this inspection and are still not certain call for an in home inspection.